Aquaus Diaper Sprayer
The Aquaus Diaper Sprayer is a simple and easy way to rinse cloth diapers before tossing in the washing machine. Adjustable high-pressure jet spray is perfect for rinsing even the messiest reusable cloth diapers in the toilet rather than dunking and soaking. The Aquaus™ Diaper Sprayer makes cloth diapering easy and reduces waste, which is a good way to Go Green for Baby Care and to save money.
Why Aquaus Diaper Sprayer?
The Aquaus Diaper Sprayer is a simple and convenient solution to making cloth diapering easy. Elegant and ergonomically designed hand held sprayer easily rinses even the messiest diaper clean while using the least amount of water. Uniquely designed sprayer has an anti-drip spray head preventing water in the spray head from dripping on the floor when placed in the holder after each use. Made in the USA, solid brass shut / off pressure control valve and t-connector gives you peace of mind knowing the connection point for the Aquaus diaper sprayer is not going to leak or fail. The Aquaus American made brass valve and t-connector are among the highest quality made plumbing parts in the world plus creates jobs in the USA. The Aquaus diaper sprayer also include our new StayFlex 48'' long, stainless steel, high-pressure spray hose. The Patent pending StayFlex spray hose remains totally flexible under pressure. StayFlex hose has the perfect spray pressure for easily rinsing cloth diapers while being only 10.5mm round making it the smallest diameter stainless steel sprayer hose ever made. StayFlex hose is also double crimped on both ends, which protects the high-pressure braided polymer inner hose from tampering or being damaged. StayFlex hose has a burst rating of 325 psi, which is over 4 times the average home pressure.
Easy Installation Without Tools or A Plumber!
The Aquaus diaper sprayer is a breeze to install – usually takes only 5 to10 minutes. Includes easy to- follow instructions with color pictures. Do it yourself installation includes all the components you need to attach to any American type toilet for the easiest and most affordable way to rinse cloth diapers.
Aquaus Diaper Sprayer -- Features
Made in the USA with domestic and global components
Three (3) year limited warranty
Chrome plated ergonomically designed ABS corrosion resistant spray wand with on/off button, stainless steel spring, anti drip spray head, 1 inch round accu rinse spray pattern
Made in the USA solid brass super strong pressure control shut off ball valve - T-connector with easy grip hand tight corrosion free nylon 7/8'' or ½'' nut
2 ASME certified plumbing code required back flow preventers.
StayFlex Stainless Steel spray hose with brass hose nuts, swivel nut on sprayer connection, double crimped hose ends plus stays completely flexible under pressure. Patent pending.
Chrome plated sprayer holder can be mounted on wall or on side of tank with flexible clip.
Easy installation without tools or a plumber
All accessories included for installation on American style toilets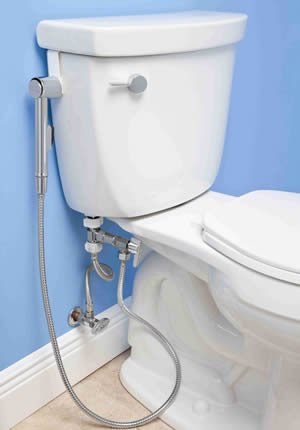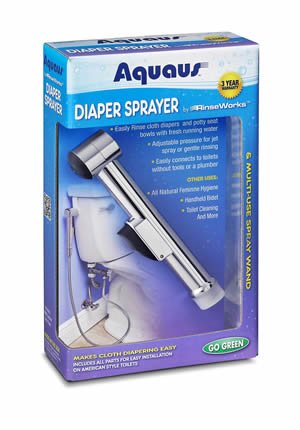 Manufactured:
Made In USA