Mini One Size Diaper Cover
Mini One Size Diaper Cover
Tiny babies need newborn diaper covers that won't be bulky like one-size diaper covers can be on preemies and small newborns. Tiny Tush Mini One Size Diaper Covers fix that problem. They give you the same great quality and function of Tiny Tush One Size Covers in a smaller size range until your baby grows into one size diaper covers.
Just like the Tiny Tush One Size Diaper Cover but tinier
Soft elastic for a gentle fit on sensitive babies




Fits babies 4-15 lbs

Adjust for perfect fit with snap-down rise

Leak protection with extra leg gussets

Choose snaps or hook & loop closures

Snap and hook & loop reinforcement for durability

Trim fitting

Choice of vibrant colors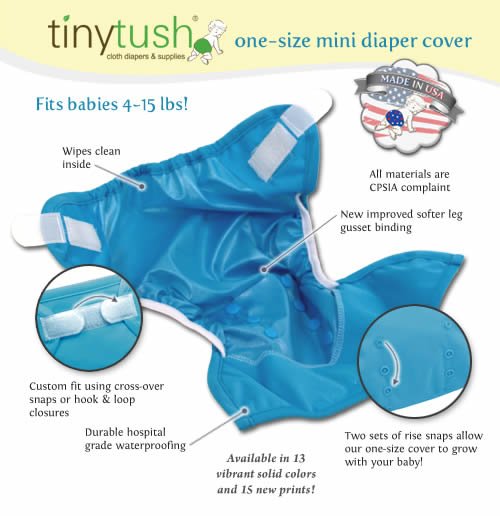 Special Care for Newborns
A 4 lb baby is incredibly tiny. Getting a diaper or a diaper cover that fits a tiny baby without creating bulk and constriction can be a challenge, so a mini diaper cover gives you flexibility to find a comfortable fit for even the tiniest babies. Then, you'll see a big change in your baby's size from 4 lbs to 8 lbs. You still need the ability to change the size of your baby's diaper cover without having to buy a whole new cover. With the Mini One Size Diaper Cover, you have 4 covers in one .
You don't need a special preemie or newborn cloth diaper. Just use anything absorbent tucked inside of your Mini One Size Diaper Cover, and your little one is covered.
And, when your little one grows out of the diaper cover, you might want to save it for a favorite baby doll.
A Dream to Clean
If the cover is wet, just wipe and reuse for the next diaper change. Wash every couple of days when you wash diapers. This lightweight cover washes clean and dries fast for the super easy care you need when you have a newborn to care for.
ORIGIN: Made in USA from USA milled fabric
MATERIALS: Polyester with a waterproof layer of PU