Tiny Tush Elite Mini Pocket Diapers
Sold 1 diaper with 2 insert per package
Tiny Tush Elite Mini Pocket Diapers combine technology, design, and good old fashion comfort!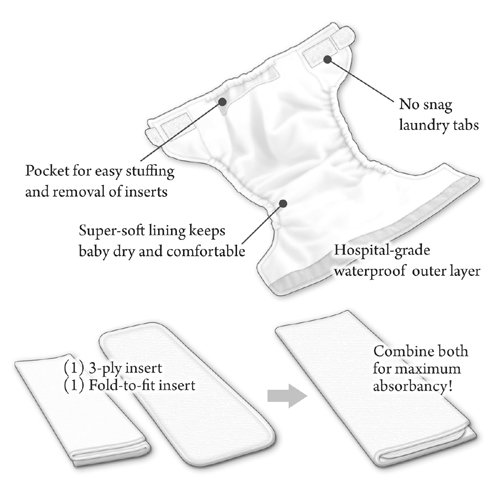 Choose Aplix Closure Mini Pocket Diapers ...
Or Select Snap Closure One Elite Mini Pocket Diapers For A Perfect Fit Every Time!
The Elite Mini is the ideal (and stylish!) way to diaper even the tiniest of babies. Offering a trim fit, and adjusting to custom meet the size needed for babies between 4-15 lbs., this diaper fits below umbilical cord to promote air movement and expedite cord healing. This awesome diaper has a stay-dry lining to keep baby feeling dry and comfortable (all with the idea that dry skin promotes health skin.which lends to fewer rashes).
This diaper come with two inserts, a 4.5" by 12 " 3 layer rectangular micro fiber insert and a 9' by 12" foldable micro f iber insert that is designed to wash cleaner and dry faster (we know time is of the essence with a newborn). We have designed this diaper knowing that a typical micro fiber insert will over times build up with minerals and bacteria that cause stink issues we fully appreciate this is a problem you want to avoid and thus have made our insert easily washable.
The Elite Minis snap closures have cross over snaps to offer a perfect fit for the tiniest of babies; and the Aplix closure comes with fold back tabs which holds the tabs securely while laundering. And once your baby grows out of the Elite Mini, baby will be ready for the Elite one-size diaper. (The Elite Mini looks and functions just like the Elite one-size - only smaller!).
Baby is safe as all materials are CPSIA compliant - meaning lead-free, Phthalate-free, PVC-free. Featuring medical grade waterproofing, the Elite Mini can safely be washed and dried at hot temperatures.
And the icing on the cake is that these diapers are so cute you will not want to give them away to friends youll want to save them for your own next child OR save them for your childs baby doll (yes, we have heard this from our customers!).
The exterior is a water proof proprietary PUL, and is FREE of any harmful materials (such as PVC, lead and phthalates).

The inner layer is an deliciously soft polyester micro-fleece, which keeps babies drier and the diaper looking like new wash after wash (after wash!).

An extra (fourth) row of snaps for even more adjustability.

This diaper is super easy to clean... when soiled, use a diaper sprayer to rinse solids into toilet; then take the wet diaper and put it into a dry pail (without wringing the diaper out). Just wash the diaper every couple days.Yes, it's that easy.

Tiny Tush Elite Mini pocket diapers are designed to fit babies from 4-15 lbs.

Snap down system allows the rise of this diaper to be adjusted incrementally from 4-15lbs

These wonderful pocket diapers are available in Aplix and Snap closures.

Color coordinating snaps
Available In Vibrant Colors And Fashonable Prints
Tiny Tush