Snappi Diaper Fasteners
Have a Snug Fitting Diaper Without Diaper Pins!
Snappis are made from a stretchable non-toxic material. Their T-shaped stretchable arms have grips on each end, which hook into the diaper fabric ensuring a snug-fitting diaper with enough natural movement for baby's comfort. The stretchy plastic gripper teeth grab and hold the diaper into place, making it easy to use without the worry of sticking the baby or yourself.
Snappis are a great alternative for parents who prefer a little extra hold but don't like using diaper pins. They work best with twill/gauze diapers such as prefolds, contoured or any other diapers would normally require pins. They do not work well with tightly woven diapers such as flannel diapers.
Available In 2 Sizes
Size 1: newborn to Toddler
Size 2: large baby or toddler
The Size 2 Snappi is better suited for larger babies and young toddlers. It is longer across the top 'T' of the Snappi. Once stretched correctly, the Size 2 fastener gives an additional 4" stretch across the width than the Size 1 Snappi. It comfortably fits up to a 30" waist.
Extra hold without using diaper pins

Works best with twill/gauze diapers

Stretchy plastic grippers

Available in a variety of stylish colors

A cover is essential over the Snappi fastener to prevent it from catching onto something and coming undone.
How To Use Snappi Diaper Fasteners
Stretch the Snappi by holding it in the center with one hand and with your other hand, grab close to the end of one of the arms, avoiding the sharp teeth, and pull. Do not grab the Snappi by the loops. Repeat this about 10 times for each arm. You will notice the material begin to soften up and become more elastic. Once you do this for each arm your Snappi Diaper Fastener is ready for use!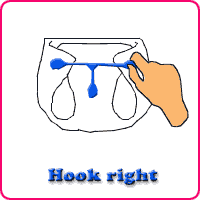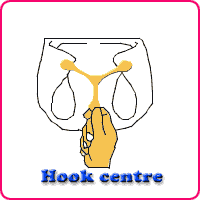 In other words, the Snappi fastener should go from a 'T' shape to a 'Y' shape.
When attaching the Snappi, hold onto the solid part of the tab. DO NOT pull on the loops.
Make sure that the Snappi teeth have gripped properly into the diaper fabric and that it is ATTACHED SECURELY with all 3 arms. The 3 points of tension are important as it is the third arm that will help prevent the Snappi from coming undone.
By following these instructions, the Snappi should be secure and the diaper will fit snugly. It is ESSENTIAL to use a cover over the diaper and Snappi fastener.
Snappis WORK BEST with terry cloth diapers, prefolds, and any other cloth diapers with a loose enough weave for the Snappi to hook into. They DO NOT work well with tightly woven diapers, or diapers made from delicate fibres. They are only recommended for diapers where the diaper fabric is thick enough that the teeth on the grips do not touch baby's skin.
By following these instructions, the Snappi should be secure and the diaper will fit snugly.
WARNING:
1. A Snappi is NOT A TOY. Keep out of children's reach when not in use!
2. Replace your Snappi if there is any physical damage or weak spots.
3. Do NOT use a Snappi on a child who is able to undo it or remove their diaper/diaper cover/clothing.
4. Snappis should only be fastened by an adult.
5. Use a cover over a Snappi fastener.
6. Do not leave your Snappi in the sun for extended periods as this can eventually weaken the Snappi.
CARE:
Clean your Snappi in hot soapy water. Do not launder with diapers in the washer as the grips could damage your diapers.
CAUTION:
Any tear in the Snappi can lead to separation of a piece, presenting a possible choking hazard.
Do not cut your Snappi as this could create weak spots in your Snappi.
Do not pull on the loops of the Snappi when attaching, as this can cause breakage. These loops serve as a safety feature only, as explained above. Use the flat, solid tabs for leverage.
Inspect your Snappi before each use. Discontinue use immediately if there is any sign of cracking, tearing, breakage or wear of any parts.
MATERIALS
The Snappi fastener is manufactured from FDA approved raw materials, which are degradable. It contains NO latex, silicone or any other adulterant, dilutent or modifying polymers. Snappis are CPSIA compliant for lead and phthalate content. Snappis are made in South Africa.
WARRANTY:
Covers Snappi products against manufacturer's defect for one month from date of purchase with proof of purchase from authorized registered retailers only. Breakages due to misuse of the product will not be replaced.
Warranty does NOT cover breakage of the loops on the Snappis. The loops are NOT to be pulled on when attaching the Snappi fastener to the diapers. When attaching the Snappi, hold onto the solid part of the tab. The loops are designed for the safety feature of the Snappi, when not in use. The thin loop acts as a barrier preventing the sharp teeth from being exposed.
Snappi® Baby All Right Reserved