Tweedle Bugs One Size Snap Pocket Diaper
Prices Above Are For One Diaper (including 1 large insert and 1 large)!
Comes with 1 adjustable insert and 1 doubler to increase absorbency!

We are so confident that you will like this one size snap pocket diaper that we will extend this no risk offer. Select and purchase one of these new one size diapers and when you receive it wash it and use it. If for any reason you are unhappy with it you may return it within 15 days for a full refund of purchase price excluding shipping.
One Diaper Adjusts To Sizes As In The Above Photo:
From left to right Toddler, Crawler, Newborn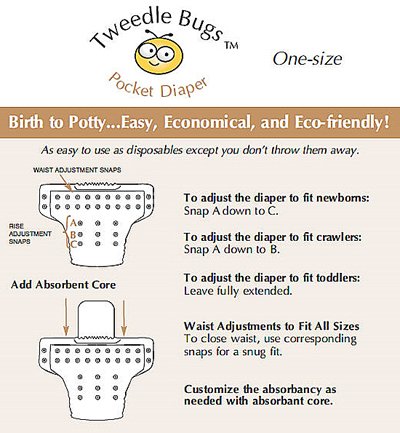 Tweedle Bugs Colored One Size Snap Pocket Diapers
With an opening in the front and in the rear of this amazing diaper, the inserts are easy to install and remove. This makes cleanup easier and yuk free.
The exterior of the Tweedle Bugs One-Size Snap Pocket diaper is a water proof PUL. The inner layer is a stain resistant polyester micro-fleece which keeps the diaper looking fresh wash after wash.
Tweedle Bugs One-Size Snap Pocket Diapers with an easy to adjust snap down system are designed to fit babies from approximately 7-35 lbs.
The three row snap down system allows the rise of this diaper to be adjusted incrementally from newborn, crawler, to toddler.
Tweedle Bugs solid colored One Size Pocket Diapers have a double row of snaps for adjusting the size around baby's waist and legs.
Opening in the front and rear for easy installation and removal of insert or doubler

Exterior is water proof P.U.L.

Interior is stain resistant polyester micro-fleece

Double row of snaps for adjusting fit around baby's waist and legs
Available Colors And Print

White

Yellow

Light Blue

Green

Blue

Black

New Colors And Print


Seaspray, Orange, Red, Turquoise, Pink


Snow Cheetah Print