Save Money with Cloth Diapers
Parents Don't Like the Cost of Disposable Diapers
One of the most common reasons parents turn to cloth diapers is to save money. If you choose your diapers carefully, you can save thousands of dollars over the 2-3 years your child is in diapers. To figure out exactly how much you can save, we did the reseach.
Our Research
We went to our local discount store to compare disposable diaper costs. We checked the prices of different sizes and different brands of disposables, including the generic or store brands. We found that Huggies® and Pampers® cost about the same amount, give or take a few cents. So, we used the least expensive of the two, which was $11.36 for a jumbo package. The store brand's jumbo packages were $8.97. Both the name brand and the store brand had the same number of diapers in each package. We calculated the following costs using the jumbo packages because they were the most economical. We broke down the prices per size and diaper usage according to the development of the average child. Finally, we added them up so you can decide.
Please note: the number of changes per day is for a typical 24-hour period. It does not include days when your baby may be sick and need more diaper changes due to illness.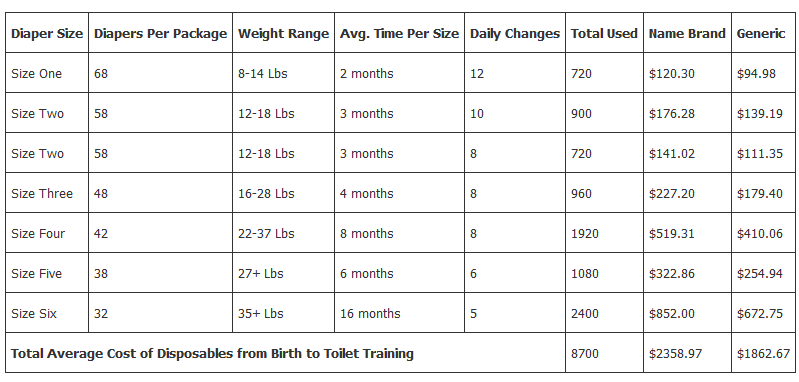 The Costs Keep on Coming
Over a 3 1/2 years, you will have used over 8,700 disposable diapers on one child, totaling at least $2,358 for discounted name brands and $1,862 for generic or store brands if you buy in jumbo packs. If you buy the more expensive brand, that adds more. If you buy in smaller packages, more again. If you have a baby who is large for his or her age, you will pay even more than the price in the above chart.
Here is the catch. The larger size diaper is the same price per package but the number of diapers in that package is fewer, making each diaper change more expensive as your child grows. You use fewer diapers as time goes by, but you are paying more per diaper. The total cost to you during each developmental period stays about the same.
Hold on. The costs keep coming. Most children using disposable diapers toilet train a year to a year and a half later than children who wear cloth diapers.
Wait!
We did not want to artificially inflate the cost of disposable diapers, so we did not add the cost of disposable wipes, diaper rash ointments (your babies are more likely to have rashes if they are using disposable diapers), the extra trips to the store, and the extra trash bags. Don't forget that you have to carry all those used disposables to the curb.
Using one-size cloth diapers or even multiple sizes of cloth diapers with covers, you will pay less for cloth diapers than you would with disposable diapers. No matter how you do the math, you save money with cloth diapers.